I'm back home in lovely Tulsa after an eventful weekend in Birmingham. I wish that I had booked my trip for at least an extra day. I never do all the things I intend to, i.e. shop at the stores we don't have here, etc. It was wonderful, as always, to spend time with my family. My brother and I brought our powers together and had lots of laughs. We can read each other's minds you know.
Here's a rundown of my weekend:
Friday night was the Part 1 of the Fallin family reunion. (My mom's family for those of you who are confused thinking my last name was Franks. ) I've found out that there are quite a few people in the family who enjoy reading my blog, which is sweet. They were rehashing stories. I'm glad to know someone out there is getting a kick out of the things that go on around here, i.e. British flag thong clad mannequins. (Apparently, I have to give lots of examples in this post, i.e. all the examples.)
Saturday was Part Deux of the family reunion. You may be thinking "ew, family reunions are so drab and uncool." Not my family. We have such a blast. We laugh the whole time. My aunt Margo gave a slideshow from her travels back in the day. It made me want to visit Africa. My uncle Vance was there and he's awesome. He's one of my favorite people in the world and that's a short list. I also got to visit with Dana and Brian and of course Grand Bet Bet or Aunt Betty. It was so nice to see everyone.
Saturday night I went to see my best friends Patrick and Danika and my goddaughter, Peyton. I vowed as her godmother to buy her presents and give her candy. Zac and I arrived with gifts and loads of sugar. I enjoyed seeing her. She's getting so big!
Sunday was my mom's birthday party. I got to see a bunch of people I haven't seen in awhile. I stayed up till 1 and woke up this morning at 5 only to arrive on time for a delayed flight.
It's good to get back to my babies. I missed them.
Top 5 Most Asked Questions this weekend:
How's Nathan? (Great.)
Do you like Tulsa? (Flat, brown, and hot.)
When are you moving back to Birmingham? (Hmm?
)
When are you leaving? (Early.)
Is that a tattoo? (Yes. It's my husband's initials.)
I know that people are just being sweet. But my voice is hoarse from talking so much this weekend. Next time what if I make a flyer?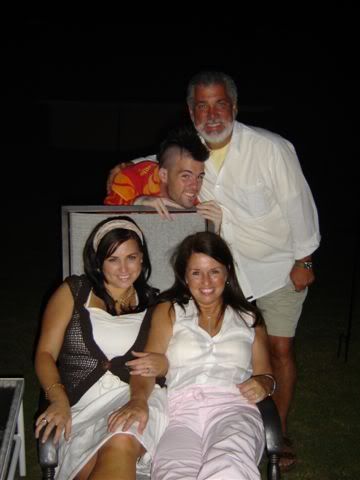 (My brother will want me to add that his hair was only temporarily in a redneck mohawk.)
I have pictures to add, but someone hasn't sent them to me...cough...Zac. Check back. I'll add more soon.